Bird control
Many species of bird are a nuisance creating health and safety problems due to noise, bird droppings, unwanted access to buildings, nesting. The risk of disease, damage and increase maintenance costs.
Types of service:
Net
Spike
Bird track
Invisible Grill Service.

Bird netting or anti-bird netting is a form of bird pest control. It is a net used to prevent birds from reaching certain areas. Bird protection netting comes in a variety of shapes and forms, The most common is a pigeon and sparrow mesh.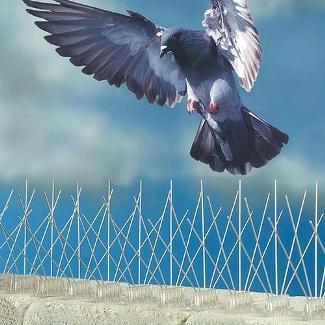 Bird Spikes are perfect for bird control in office buildings, hotels, hospitals, residential homes, warehouses, factories, etc. It prevents birds like pigeons, crows and kites from landing, perching or roosting on surfaces like windows, ledges, air conditioners, etc. The spike strips act as an effective deterrent and do not hurt the birds. When the birds see an area protected by the bird spikes, they simply fly away without injuring themselves, therefore making this a humane product. Manufactured out of Polycarbonate, it is very strong and weather resistant.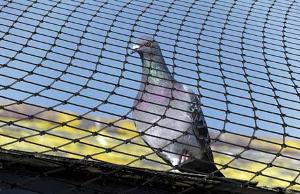 Bird Shock Track System is an extremely low profile, discreet and flexible electric bird control deterrent used to prevent birds & pigeons from landing, roosting or nesting on virtually all types of sufaces under any kind of infestation level.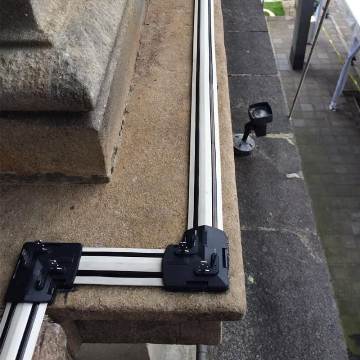 The Bird Shock Track System imparts an extremely mild & low voltage electrical shock to bird species of any kind when they land on track surface conditioning them to avoid the areas wherever the shock track system is laid out.

The invisible grill vertical installation ensures that birds can't stand on the grills and try climbing in. While invisible vertical grills take care of the balcony view. The Invisible Grills can be installed at balconies, windows, staircase and railings, providing you the seamless outside view and at the same time ensuring the safety of your loved ones, specially the kids.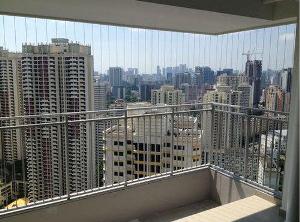 ←

Previous